How to Improve Cash Flow and Increase Profit Fast by Using Automated Webinar Software?
Posted by Melinda Stevenson on 27 October 2020
Is Live Webinar Better Than Recorded (Automated) Webinar?
Creating recorded (automated) webinars using the most affordable webinar software can have a ton of benefits. It can save you a lot of time since recorded webinar is readily available at any time. A recorded webinar can serve as an ongoing lead generation tool, It can be shared easily so it gives you potentially greater audience exposure.
In this article you will discover the advantages and disadvantages of live and recorded (automated) webinars. The recorded and automated webinar will be used interchangeably in this article.
What are the Benefits of Live and Recorded (Automated) Webinars?
There are mainly benefits in using both live and automated webinars as outlined below.
Automated webinar maximises audience exposure
Automated or recorded webinars are a useful tool you can use as leverage to maximise your audience reach.
Live webinar is beneficial in deepening the connection you have with your audience. While pre-recorded webinar is helpful in generating more ways to increase the connections you have with your prospects.
It is also beneficial in increasing the number of people you can connect with in your target market.
Automated webinars serve as an ongoing lead generation tool. Live webinars only generate leads prior to the scheduled event.
The registration page for automated webinars serves as a landing page for your lead magnets. It provides your website visitor a chance to opt-in to gain access to the video.
It allows you to automate the lead generation process. Automated webinars serve as a lead generation tool in an ongoing basis.
Automated webinar is timeless
You can make a pre-recorded webinar available for people to consume whenever it is convenient for them. It gives you the ability to achieve much greater market exposure towards your potential customers without any geographical and time zone restrictions.
Automated webinars allow you to market your products and services globally. You can enable the 'Watch Now' feature to allow people to watch the webinar immediately 24/7.
Automated webinars can save you a lot of time. Live webinars take a lot of time to plan, prepare and execute properly. You have to create email campaigns such as promotions, reminders and post-webinar update. You have to rehearse the live webinar multiple times and so on.
When you decide to run the webinar again you have to go through the same process all over again. The benefit of automated webinars is that you only have to produce the content once. You can run the automated webinars as many times as you want. Your audience can watch it whenever they choose.
Automated webinar is passive lead generation tool
Since you cannot host live webinars 24/7, pre-recorded webinar is a good alternative to maintain connections with your prospective customers.
Automated webinars also remove the awkwardness of having to say a person's name which is challenging to pronounce if you were doing a live webinar.
Automated webinars give you much greater audience exposure. By having automated webinars with personable content and offering solutions to the viewer's problem, could make your business easier to connect with.
It provides them something they can relate to and they may be more likely to purchase the product or service that you are promoting.
Automated webinars are effective in boosting your marketing efforts. It allows you to potentially generate more qualified leads which could increase your sales on autopilot. You could potentially earn some income through passive traffic.
Automated webinar is a valuable opt-in incentive
A free pre-recoded webinar could have a much higher perceived value than the classic opt-in incentives such as PDF downloads and so on.
Automated webinar provides a massive incentive for people to submit their email address for. The webinar information can be seen as incredible value since they are more likely to use the content.
Since recorded webinar is a fixed length of time, more people are likely to take advantage of it as they can watch it on demand with 'Watch Now' option at a time which is more convenient for them.
Generally, webinars tend to be more engaging compared to reading a free eBook that they have downloaded as an example. That is why automated webinar could help increase the size of your email list.
Automated webinars are readily available at any time. One of the main benefits of automated webinars is that it is always available. You can choose to present it as an on-demand video or you can run it at a specific time intervals every 2 hours for example.
It allows your potential customers to learn more about your company, your products and services whenever they feel ready. They do not have to plan their activities around your webinar schedule. You can promote the webinars on social media, on the homepage of your website and as a banner in your blogs.
What are the Advantages and Disadvantages of Live and Recorded (Automated) Webinars?
There are advantages and disadvantages in running automated webinars and live webinars which are outlined below.
Automated webinars may not convert as well as live webinars
Although automated webinars could bring more attendees, you cannot make the same type of connections with your audience and build the same quality of relationships with them when the attendees are not actually interacting with you.
The limitations where attendees cannot instantly ask you questions is one of the disadvantages of automated webinar compared to live experience.
It is important to record a video specifically tailored for automated webinar since you are not live yourself when your audience watches it.
It is crucial to address some areas to make sure you get the highest conversion rate possible such as understanding how to keep your presentations engaging for the viewers.
Automated webinars lack urgency
Since a live webinar could only happen once, there is more of an urgency which encourages people who registered for the event to actually be there.
With automated webinar since people know that they could watch the webinar anytime they want, they might actually delay watching it.
To overcome this concern, consider setting a timeframe for the automated webinar where it could be available for viewing only for a limited time.
It becomes important to maintain sending regular emails that encourages people to watch it when they register for the automated webinar.
Live webinars have higher perceived value than automated webinars
Since the audience only gets one chance to experience a live presentation the people who register for the webinar consider it as an important event. It is their chance to ask questions live.
The live webinar has a higher perceived value since it is not something they can get access to at any time. It is a scheduled appointment so people who registered for the webinar may stick to their commitment to attend the event based on its perceived value.
Live webinars have greater interactive content than automated webinars
It is more satisfying for the audience if they could ask questions and get the answers immediately. It assists in building trust with the attendees. People like to buy from people they like. People do not based their buying decisions solely on the content that the person publishes.
The live webinars serve as a conversation since the audience can ask questions and get answers in real-time.
Live webinars are restricted based on your time availability
It is challenging to provide live webinars effectively more than a few times a week. There is a lot of work that goes into creating live webinars including all the marketing initiatives prior to the event and follow-up activities after the event that goes with it.
You have a single chance to make the most of generating potential sales from the event for all your efforts.
However, you can only convert it to sales based on the people who actually show up for the presentation.
The main downside of live webinars is that it takes place at a specific date and time. It limits the number of people who could attend the live webinar session since the timing has to suit their schedule.
Automated webinars offer a good alternative solution to this problem. It allows your audience to request an on-demand version of the presentation which they can watch at a more convenient time that suits them.
What are the Barriers in Creating Live or Recorded (Automated) Webinars?
The reason most people do not create webinars is not because they do not have the time nor is it because they do not want to. It is due to some limitations in creating profitable webinars such as high monthly fees for a webinar platform.
How to Generate Sales from Live and Recorded (Automated) Webinars?
There are benefits in using both live and automated webinars to achieve different results by taking advantage of the strengths that each type of webinars provides.
Consider using recorded webinars at the early stage of the buyer's journey by building awareness about your brand and to generate leads.
You may consider not including any sales offer from the automated webinars. Since you are already benefiting from it through the email addresses generated from the opt-in registration forms when they request access to the recorded webinar.
You could use the automated webinar to offer the audience real value such as helping them to achieve some quick wins based on the lessons, strategies and tips you provide.
You can then encourage the viewers of the recorded webinars to attend a live webinar. When they register for the automated webinar, you could ask them to register for the next live event or send them a follow-up email after watching the recorded webinar with the invite for the live event.
When the automated webinars have given you more credibility and you have earned the viewers' trust through live webinar registrations, you could then focus on providing them live webinar sales presentations.
By this stage, the audience become warmer leads who are prospects that could be ready to buy based on the relationships that you have established through the automated webinars.
You could further nurture the warm leads through more interactive and engaging events which live webinars provide.
How Can Webinar Software Improves Cash Flow and Increase Profit?
Here is how an affordable webinar software works in 3 simple steps.
Step 2. Create your webinar, video meeting or live conference - You can stream recorded videos or webinar replays if you do not want to be 'live' yourself.
Step 3. Share your stream in various social media platforms - The tool can blast your link through the autoresponder to share your stream all over social media which could potentially generate an income for you on autopilot. There is zero lag and it provides high quality, full high definition streaming experience.
Click here if you want to discover the exact software you will need, how to put it all together and to become a regular webinar creator with an unlimited audience.
If you decide to purchase the software using our affiliate link we will receive a commission at no additional cost to you.
Want a Simple Way to Run Unlimited Done-For-You Webinars in the Cloud for Free Traffic?
Click here to watch the powerful software in action. You will discover how to ditch high video conferencing monthly fees forever and see if it is right for you.
Some of the webinar software benefits outlined below are covered in the video.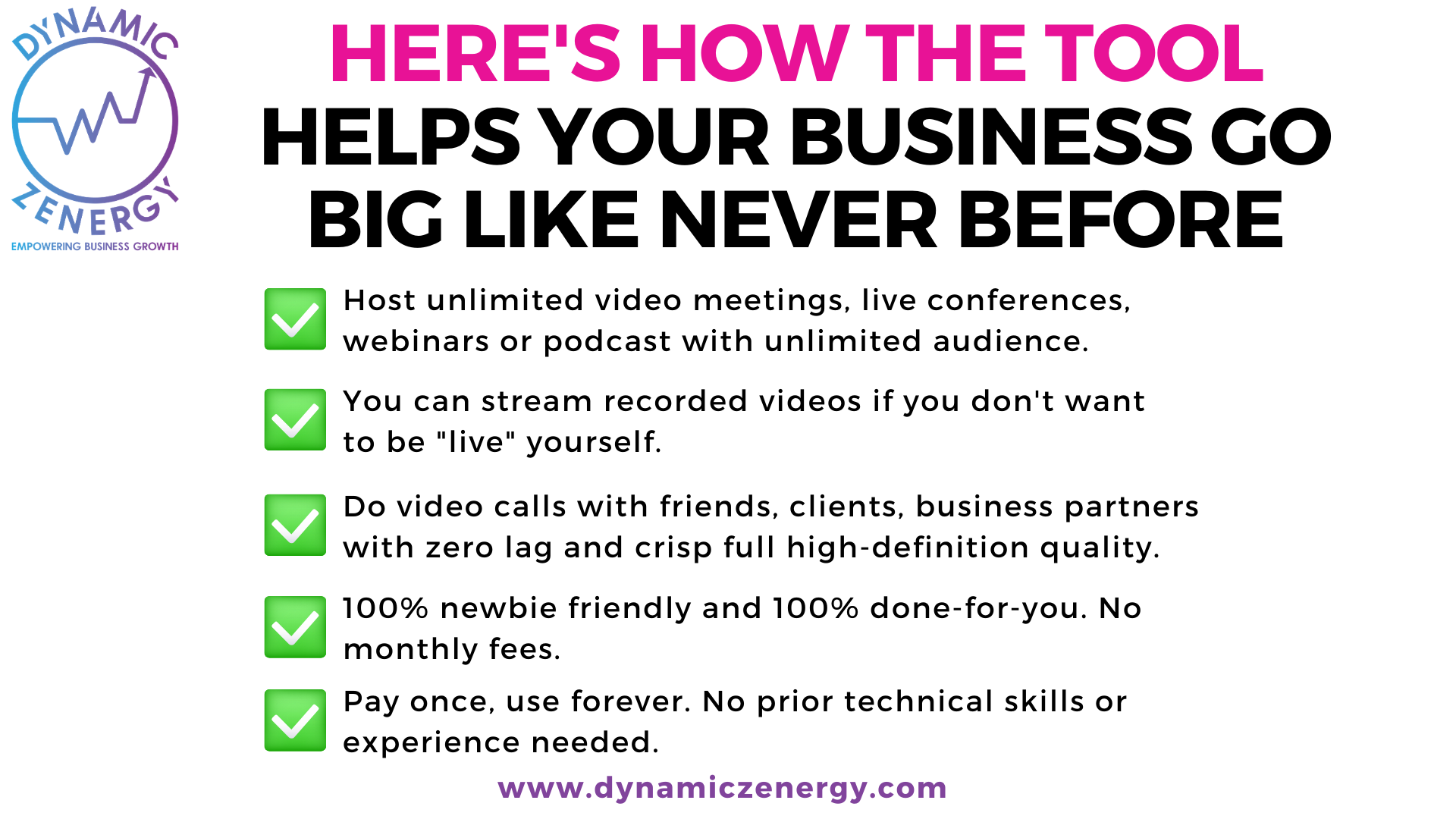 Want More Free Resources?
For free Business Essential Guides with tips and free checklist templates, click here.
For free Business Health Check reports in a range of areas and some questionnaires only take 7 minutes to complete, click here.
For free calculators that could assist you to stay on top of your business if you want some quick help, click here.
Conclusion
To summarise, it is beneficial to use both live and automated recorded webinars. You can take advantage of the strengths that each type of webinars offer.
You can use the relevant type of webinars to achieve the different desired results in improving your business cashflow, increasing sales, generating more revenue and achieving higher profit.
Follow Us
Disclaimer
This article is not intended for use as a source of legal, business, accounting or financial advice. All readers are advised to seek services of competent professionals in legal, business, accounting and finance fields. This article is general information only.
Author:
Melinda Stevenson
About: Dynamic Zenergy provides specialist business advisory consulting services. Our mission is to accelerate your business growth by increasing your revenue streams and profitability. We help you in systemising, automating and improving processes by leveraging business management software and outsourcing services so that your organisation can thrive and to maximise the return when exiting/selling the business.
Connect via:
LinkedIn